We are so excited for the 2020-2021 school year! We will be posting daily highlights of our safety plan as we get ready to welcome our students back to school!

Gov. Holcomb has mandated mask usage. Please see the below letter updating our reopening plans.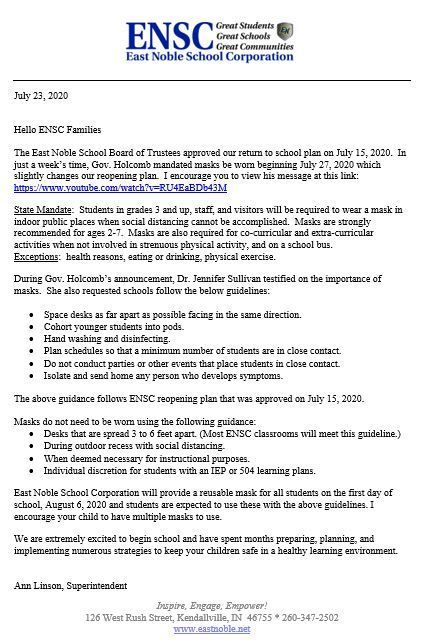 East Noble's new preschool is taking shape and getting ready for students! Excited to begin a new school year with our preschoolers.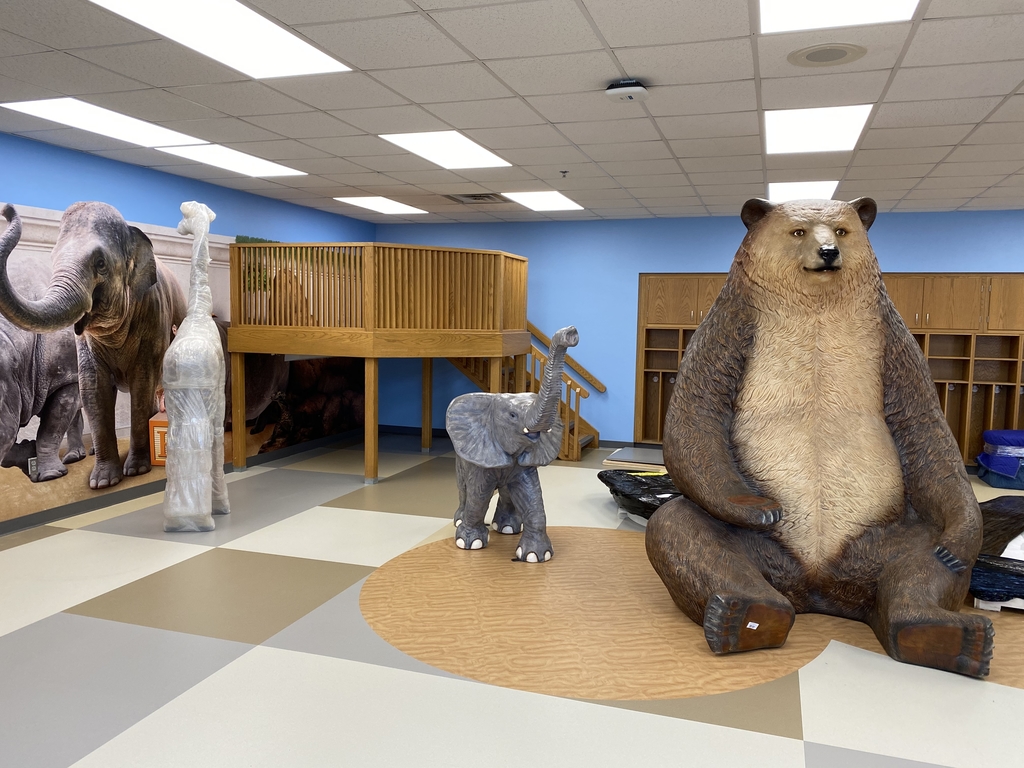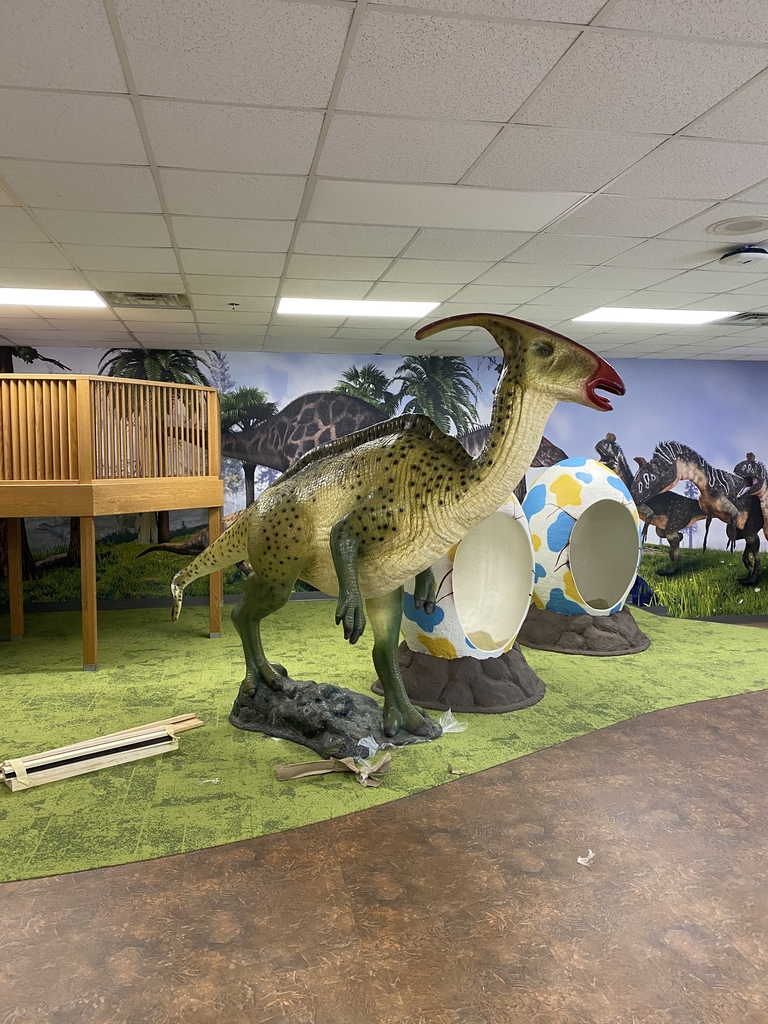 School supply lists are here! 😀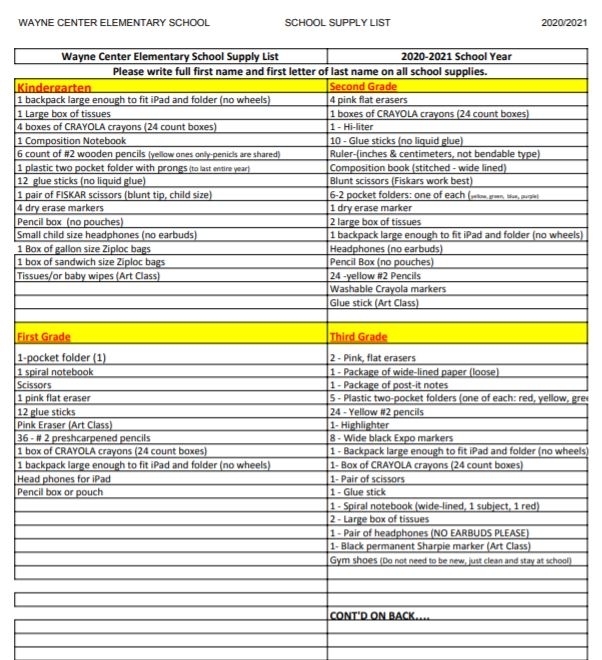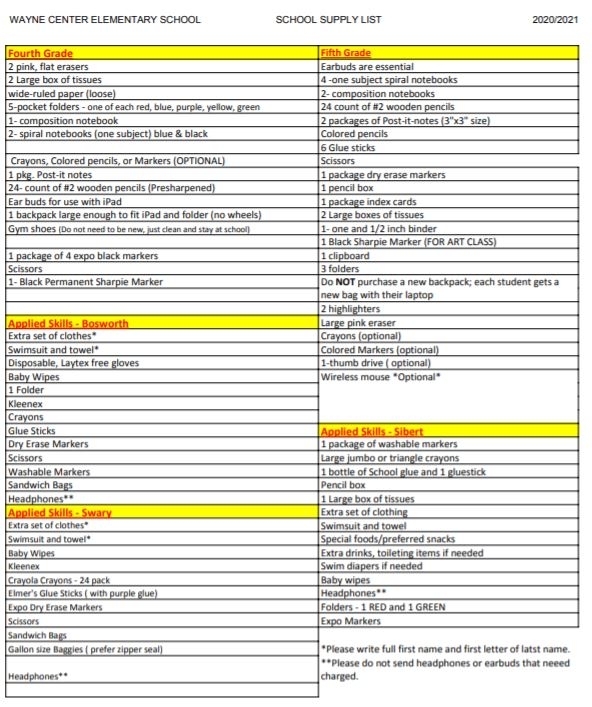 Don't forget....two random students will receive free book fees for the 2020-2021 school year. You must online register by midnight tonight to be considered.

Attention all Wayne Center Kindergarten parents.... Please see the information below about our Kindergarten Open House on Aug. 4!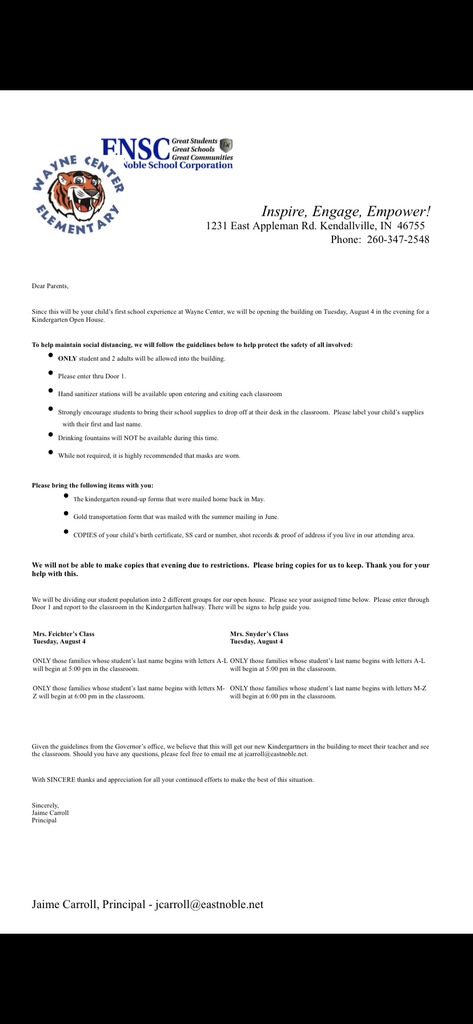 We are excited to welcome new students to East Noble School Corporation! Walk in registration for new students is this Thursday, July 16, from noon until 7 p.m. This is limited to ONE PARENT AND THE CHILD OR CHILDREN being registered in the particular building. MASKS ARE STRONGLY RECOMMENDED! If you have children who attended an ENSC building last year, we encourage you to register online rather than walk in. Two random students who register online before July 16 will receive free book fees for the 2020-2021 school year. Reopening safety plans will be released later this week. If you want to participate in online learning, you do need to be registered.

Please click on this link to view a school reopening message from the Noble County school districts' superintendents.
https://5il.co/i50v

Please click on this link to view a message from the Noble County school districts' superintendents.
https://5il.co/i50v

Attention ENSC Kindergarten Families Please SAVE THE DATE!

ENSC is excited to begin a new school year. Online registration is open and we are encouraging you to get registered before July 16! Through a random drawing, two students registered by July 15 will receive free book fees!! Walk in registration is Thursday, July 16 from noon - 7 p.m. we can't wait to have our students return!

Attention Kindergarten Parents: Please see the following information about the annual Kindergarten Screening.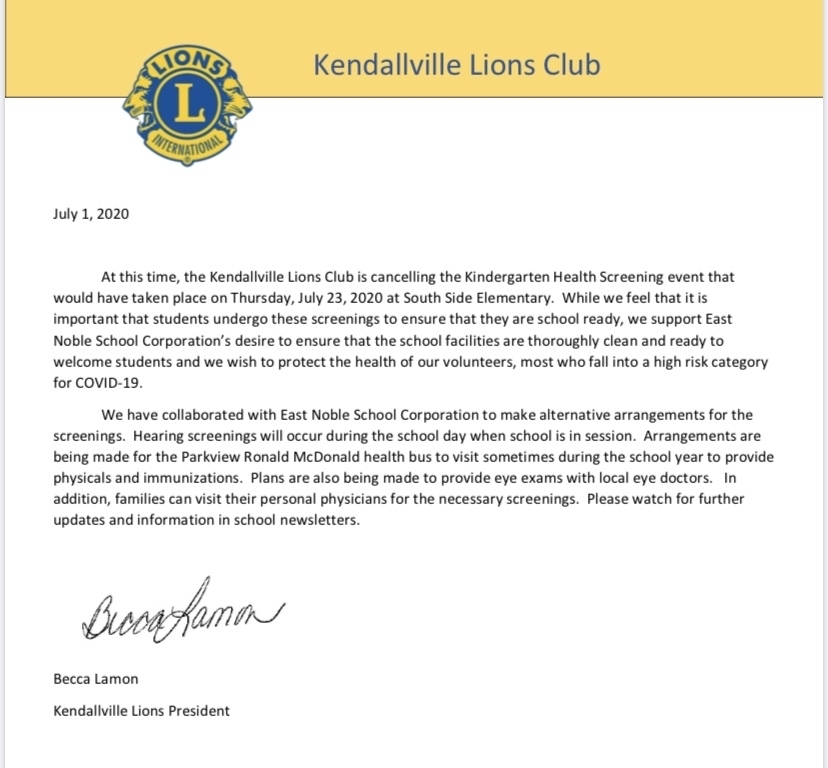 We would love for your child/children to join our Wayne Center family!!!

Online Registration for the 20-21 school year opens today! Please contact
jcarroll@eastnoble.net
with any questions.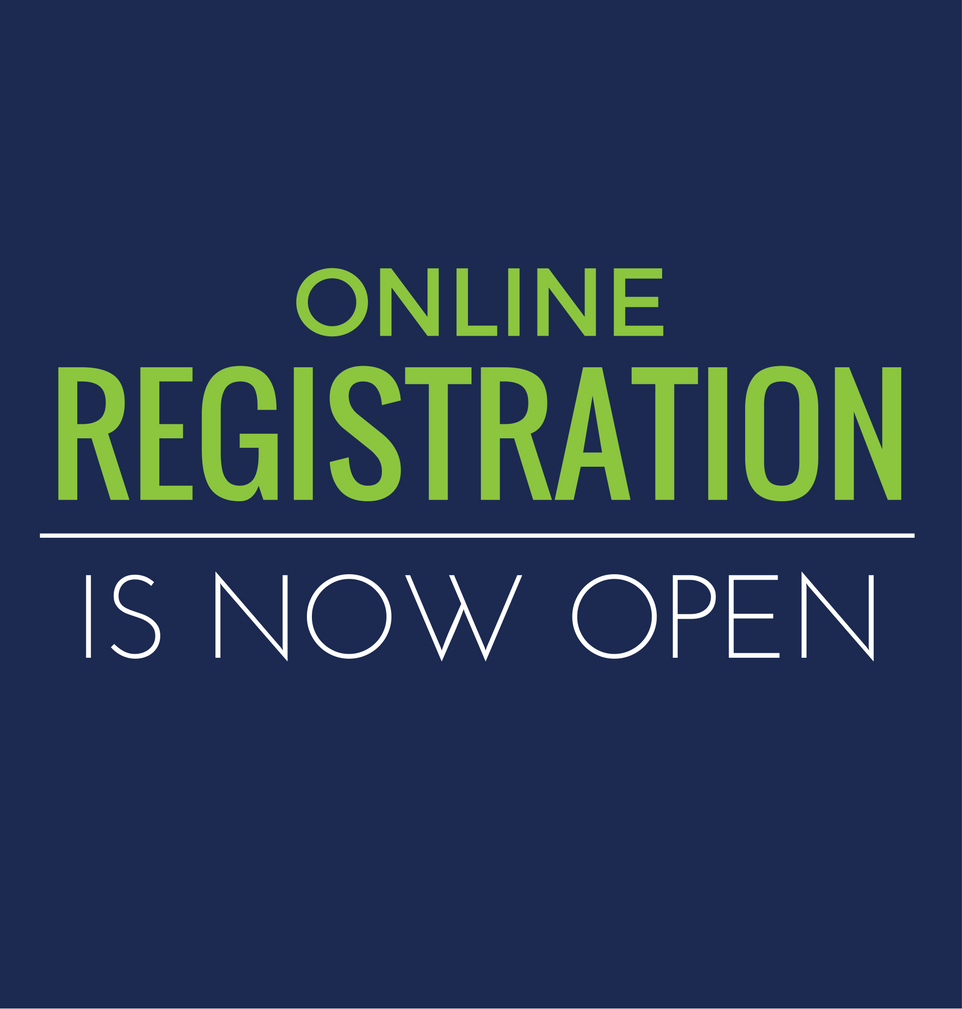 Support for our communities.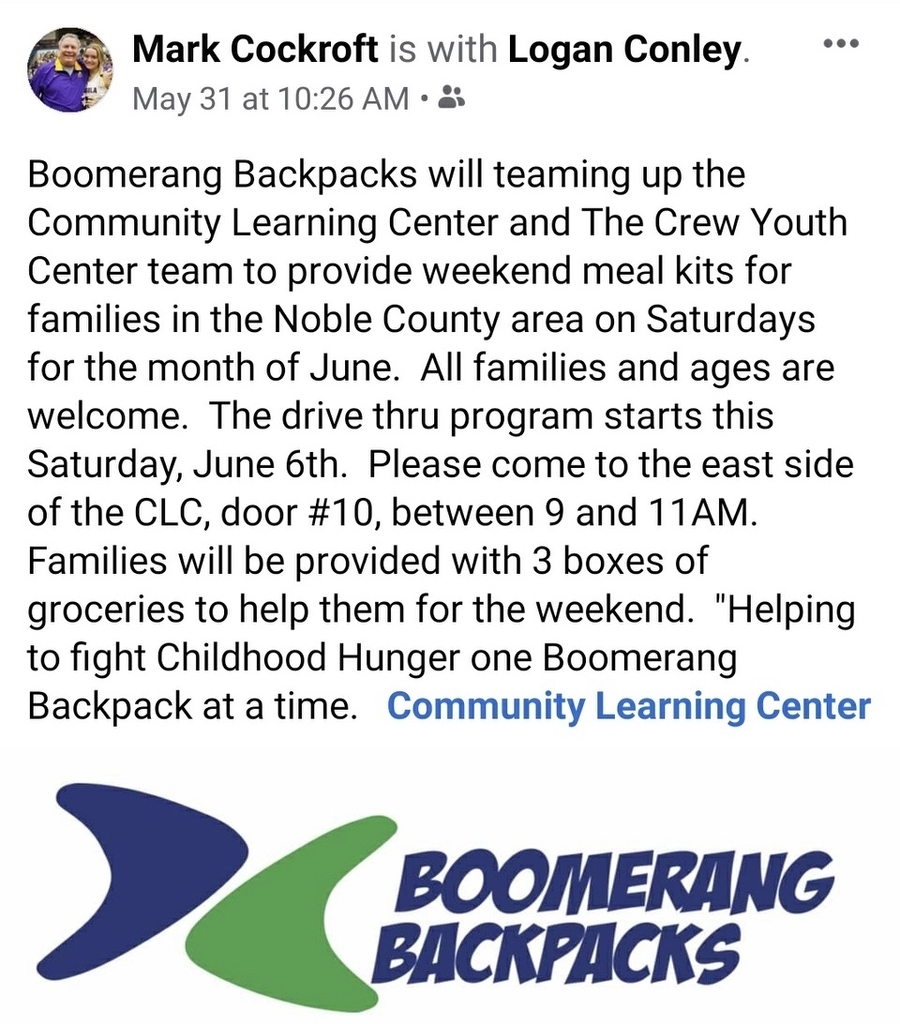 2019-2020 yearbooks are here and they are AWESOME! Please click the link below for directions on how to order! We have a limited supply! $10.00 each.
https://forms.gle/mVtx3SBUvNDo44Z18

Looking forward to the 2020-2021 school year!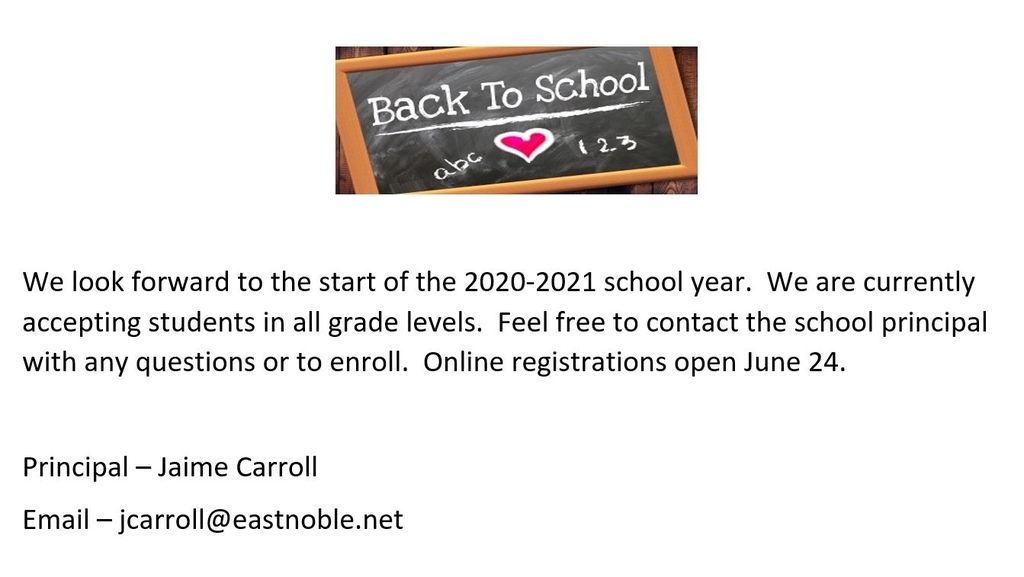 Today was so much fun! Teachers and Staff came through our WC Drive-Thru for lunch, a proud to be a WC Tiger yard sign and a bag of goodies! It was great to see our staff today! Happy Teacher and Staff Appreciation Week!

Wayne Center is looking for three people to join our amazing staff for this coming school year! If you, or someone you know, is interested, please contact Mrs. Carroll or fill out an application at the link below! East Noble School Corporation is accepting applications for the following vacancies: Three Instructional Assistants Wayne Center Elementary School One Instructional Assistant, 5 hours per day, general education classroom Two 7 hour Instructional Assistants, special education classrooms Positions begin August 2020 Duties and Responsibilities: Attends all required training sessions and applies training within the classroom Other duties as assigned by building administrator Classroom Instruction: Works with students one-on-one, in small groups, large groups or other Assists with student documentation Monitors student progress Supervises students in all assigned areas Communicates effectively and regularly with students and staff Participates in team planning sessions Professionalism: Maintains confidentiality of all student information Follows East Noble policies and procedures Works cooperatively with teacher(s) and other staff Maintains professional demeanor Candidate must have one of the following: Minimum of 60 college credits Associate's Degree Paraprofessional certification Or be willing to take and pass Paraprofessional certification test Direct questions to Jaime Carroll, Principal, Wayne Center Elementary School
jcarroll@eastnoble.net
260-347-2548 Interested applicants must apply on AppliTrack:
https://www.applitrack.com/r8esc/onlineapp/_application.aspx?starting=true

On this National Principals' Day, ENSC wants to thank our amazing administrators! This district is blessed with dedicated & passionate leaders who go above & beyond daily to ensure students receive the best education & support possible.