Wayne Center is looking for three people to join our amazing staff for this coming school year! If you, or someone you know, is interested, please contact Mrs. Carroll or fill out an application at the link below! East Noble School Corporation is accepting applications for the following vacancies: Three Instructional Assistants Wayne Center Elementary School One Instructional Assistant, 5 hours per day, general education classroom Two 7 hour Instructional Assistants, special education classrooms Positions begin August 2020 Duties and Responsibilities: Attends all required training sessions and applies training within the classroom Other duties as assigned by building administrator Classroom Instruction: Works with students one-on-one, in small groups, large groups or other Assists with student documentation Monitors student progress Supervises students in all assigned areas Communicates effectively and regularly with students and staff Participates in team planning sessions Professionalism: Maintains confidentiality of all student information Follows East Noble policies and procedures Works cooperatively with teacher(s) and other staff Maintains professional demeanor Candidate must have one of the following: Minimum of 60 college credits Associate's Degree Paraprofessional certification Or be willing to take and pass Paraprofessional certification test Direct questions to Jaime Carroll, Principal, Wayne Center Elementary School
jcarroll@eastnoble.net
260-347-2548 Interested applicants must apply on AppliTrack:
https://www.applitrack.com/r8esc/onlineapp/_application.aspx?starting=true

On this National Principals' Day, ENSC wants to thank our amazing administrators! This district is blessed with dedicated & passionate leaders who go above & beyond daily to ensure students receive the best education & support possible.

Information about 6th grade for all of our 5th grade families Please see below: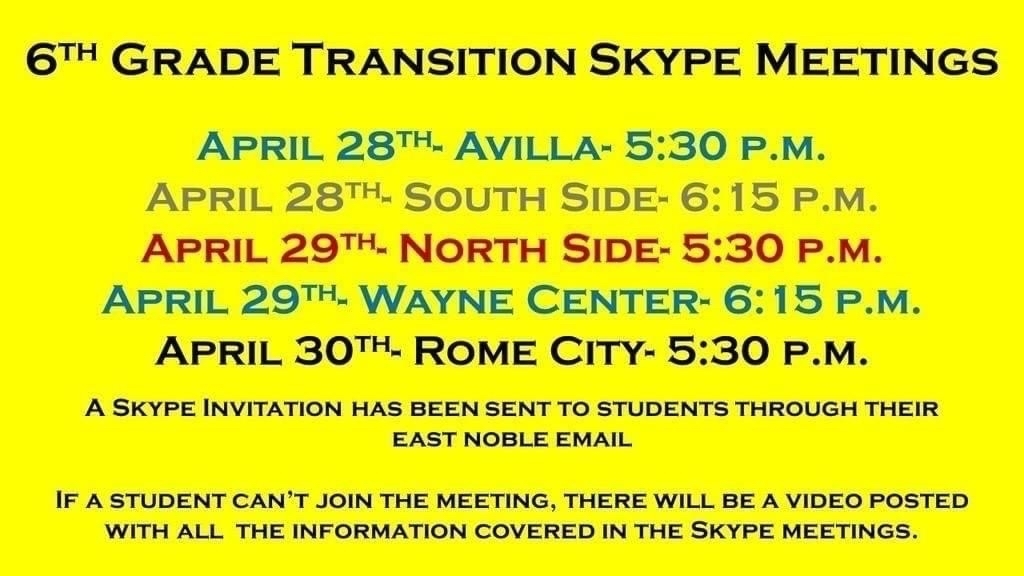 Congratulations East Noble High School Class of 2020! You are amazing Knights who will be remembered!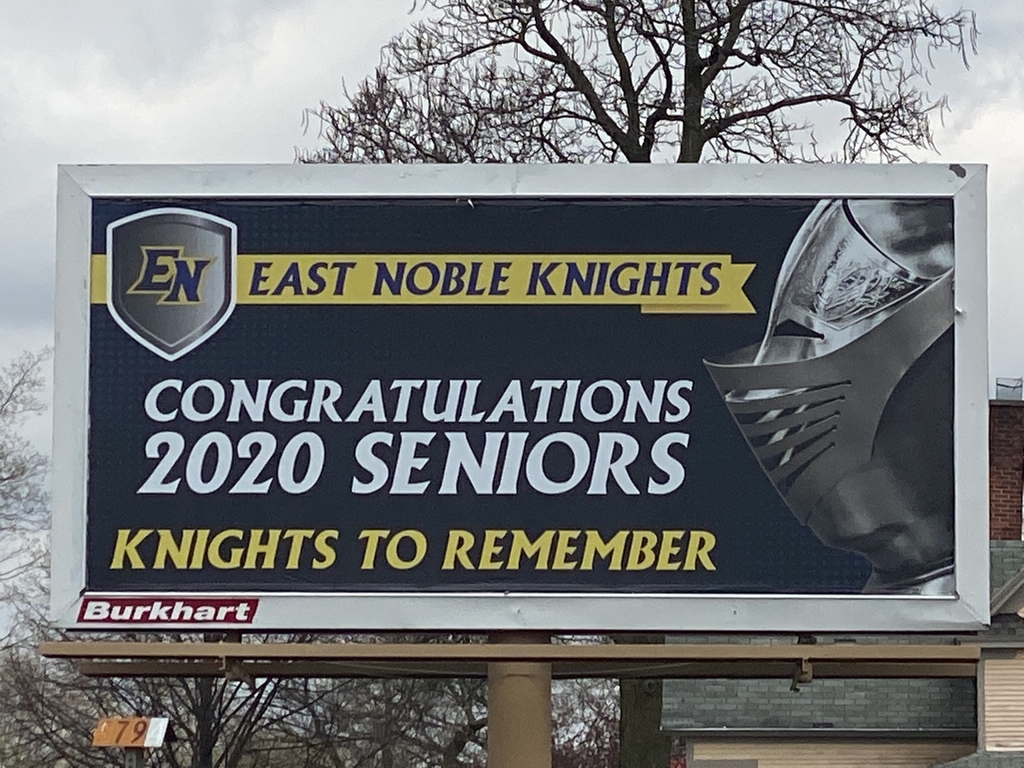 Wayne Center's Got Talent!!! Join our virtual talent show!!!


Upcoming HOUSE DAY STAFF CAR PARADE will be on Friday, May 1st!!! We can't wait to see you along the parade route!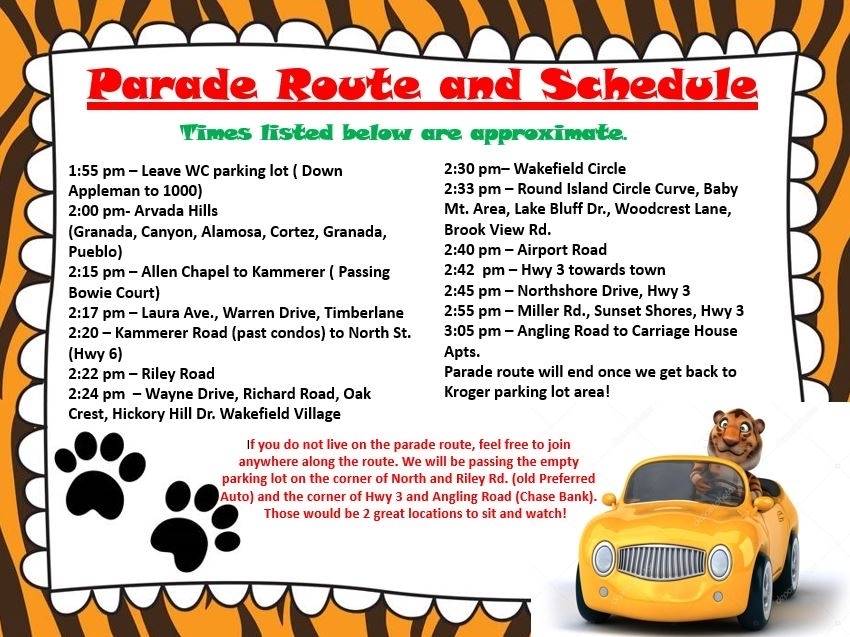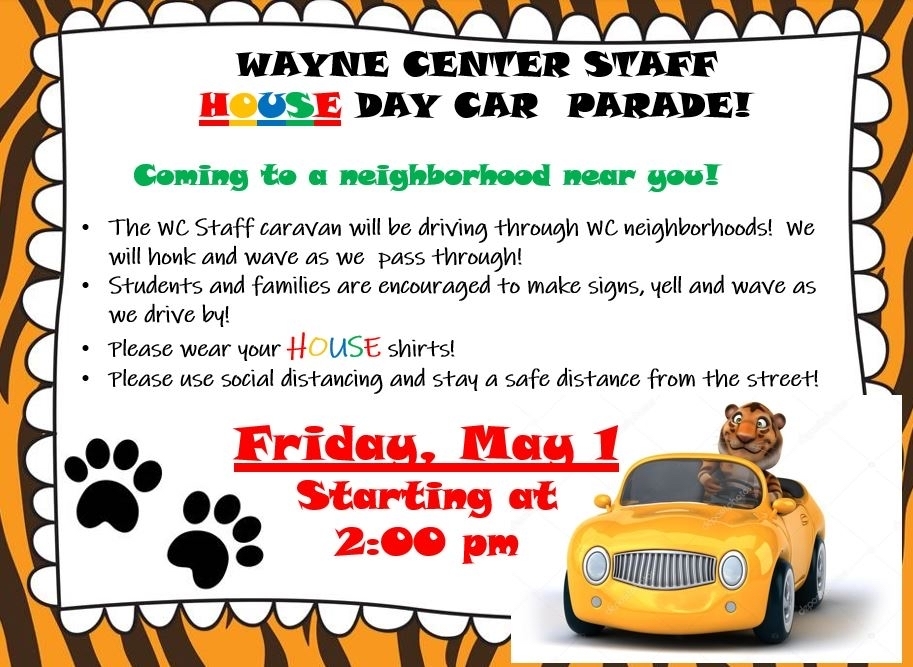 So appreciative of the East Noble staff members who shared their best tips and tricks for teaching remotely through Skype today! Over 130 people participated in the session voluntarily; their dedication is unmatched! What the staff is doing to engage students is phenomenal!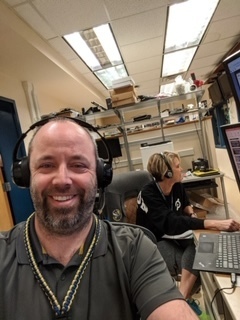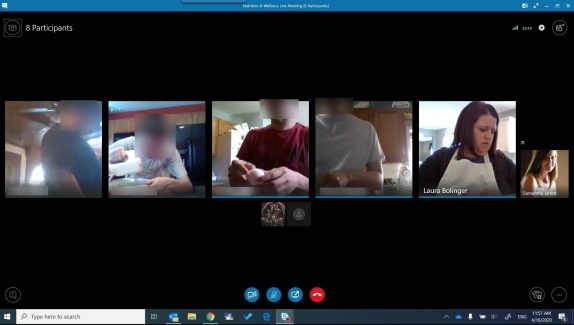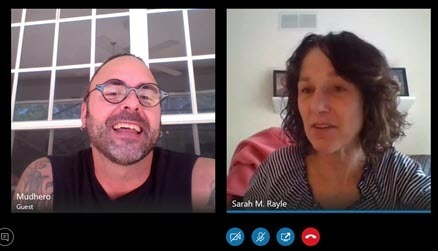 A great resource for our students and parents.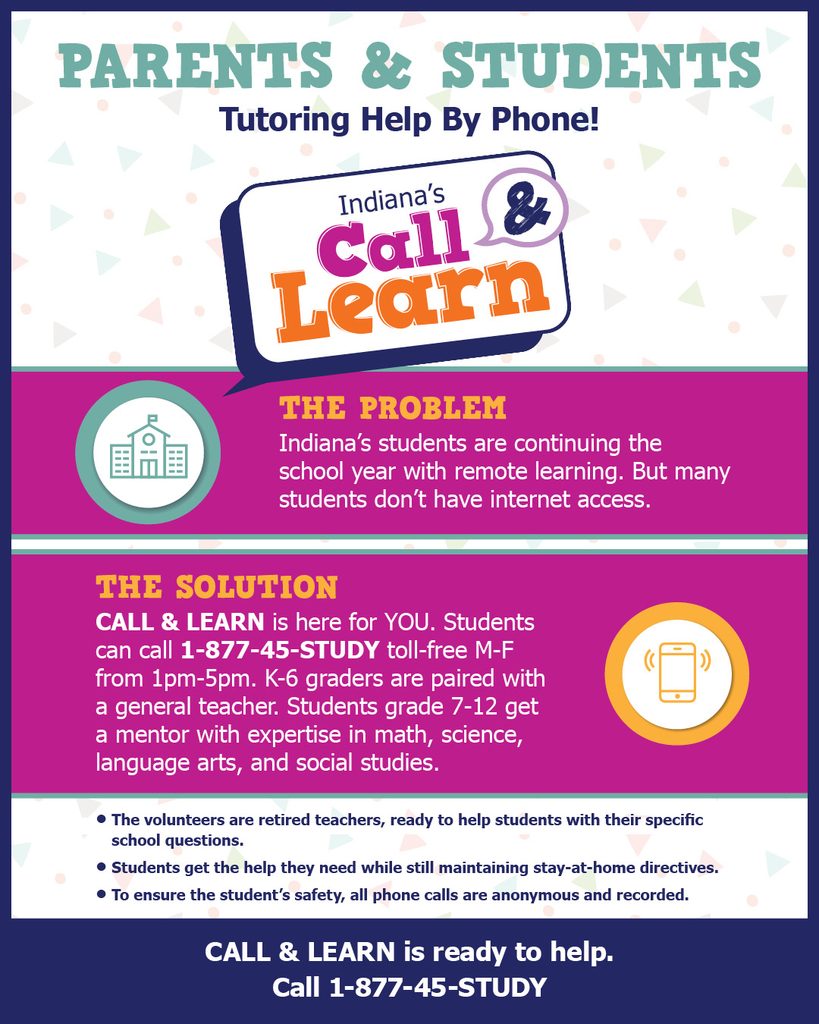 ALERT: The East Noble School Board Meeting will now be broadcast live at
https://youtu.be/Q3pO3KpuVIU
. This is a change to a previously posted link.

Check out the East Noble Connector. Thank you Cassaundra Kesterke, ENSC Community Outreach Coordinator, for supporting our families with this excellent resource.
https://www.smore.com/srdj5

Happy Secretaries' Week! Thank you Mrs. Deming and Mrs. Terry for being outstanding! We are so lucky to have you!
https://youtu.be/smRz7eT6Tn8


Updated Popcorn and Spring Picture Information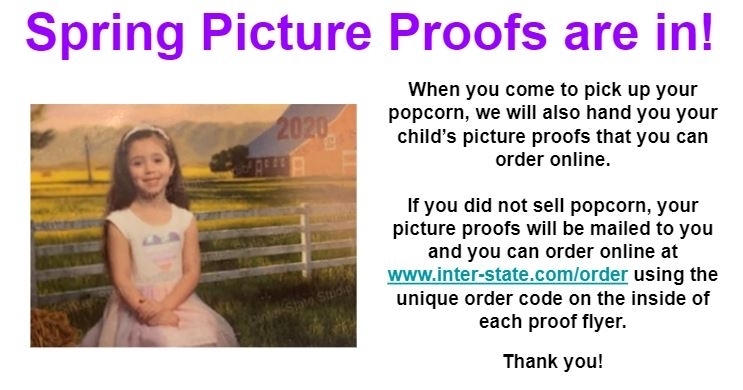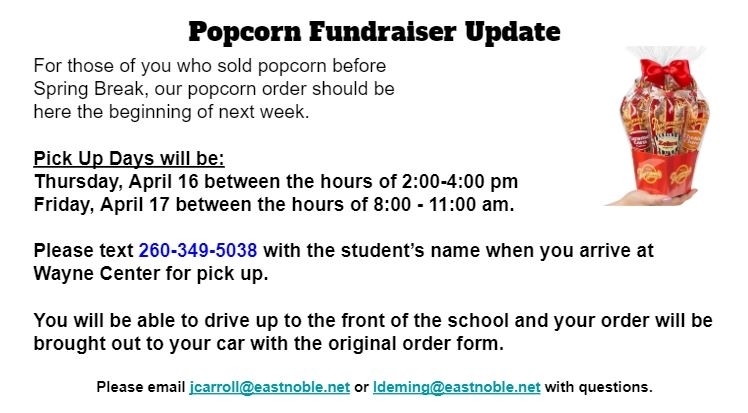 If your child is having difficulties completing eLearning because of internet access, don't forget that there is wireless outside of all ENSC buildings. Also, Ligtel has provided access at the CLC, Hidden Ego, and Cody's Pizza in Avilla. See the emails sent to parents for info!

Calling all parents/guardians of upcoming preschoolers and kindergarteners.... With schools closed due to COVID, ENSC was not able to hold kindergarten and preschool round up. If you have a child who will be a kindergartner this fall or a preschooler this fall, please use these links to begin the registration process. Kindergarten:
www.tinyurl.com/Kindergarten2020ENSC
Preschool:
www.tinyurl.com/Preschool2020
PLEASE SHARE THIS MESSAGE!!!

Due to the current situation, our playground is closed until further notice. Thank you for understanding.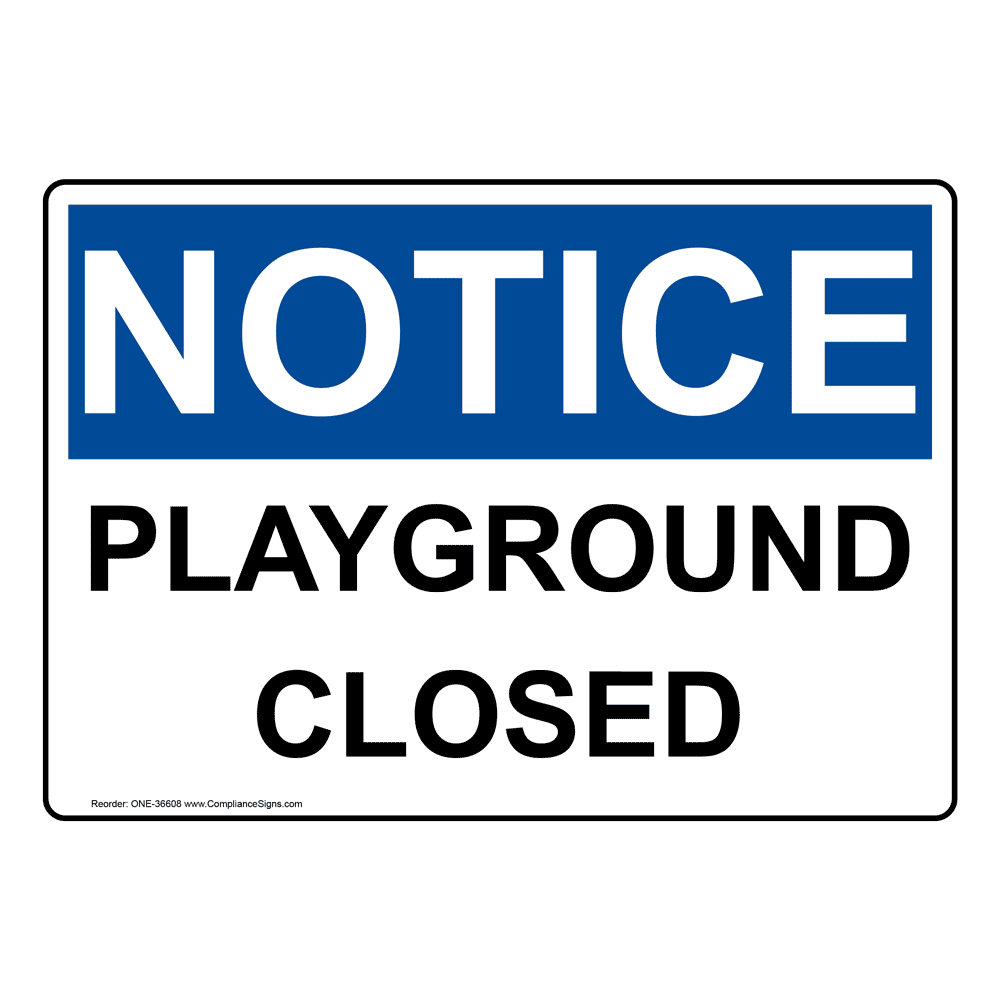 Ending the 19-20 School Year- Guidance and FAQ's for Students and Families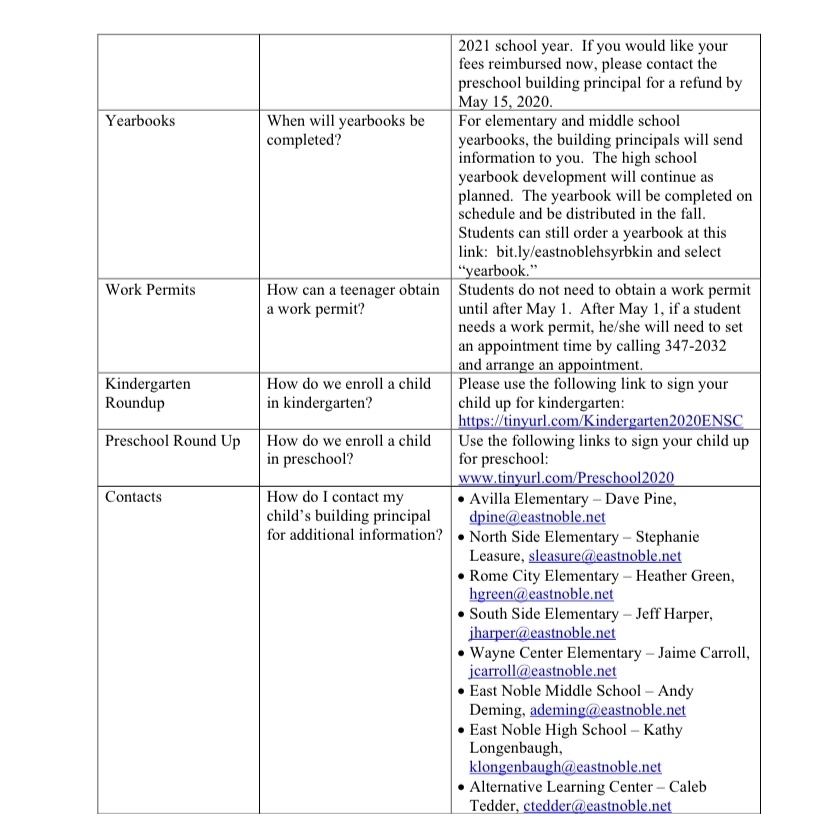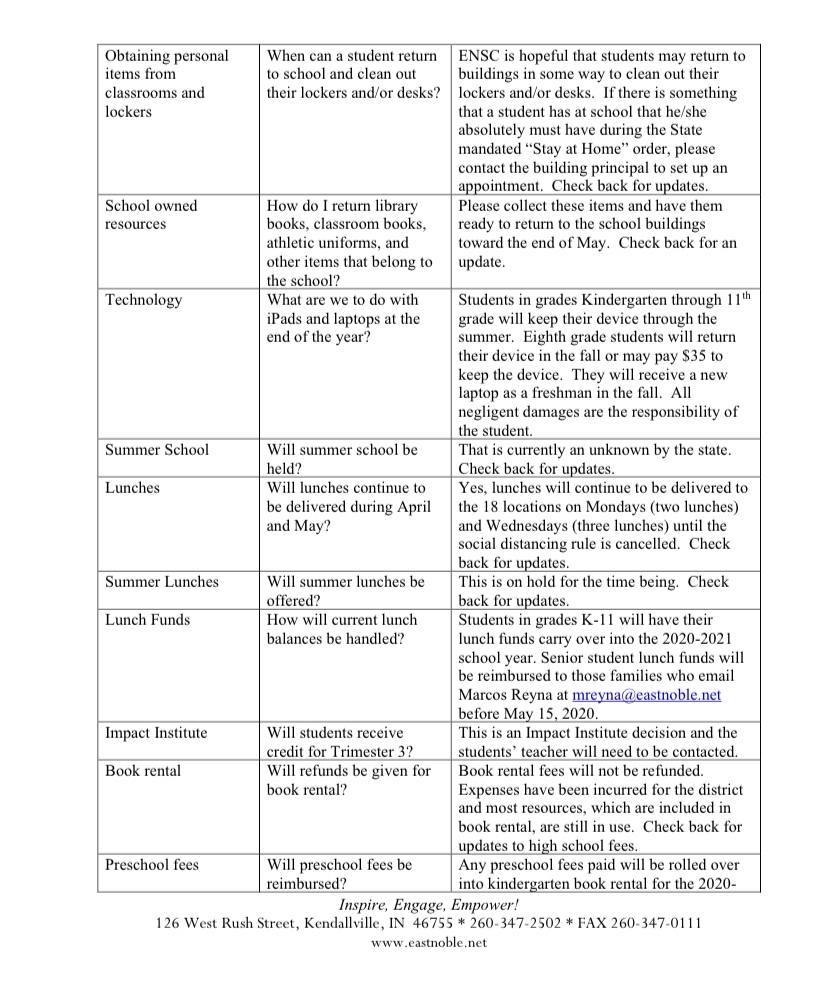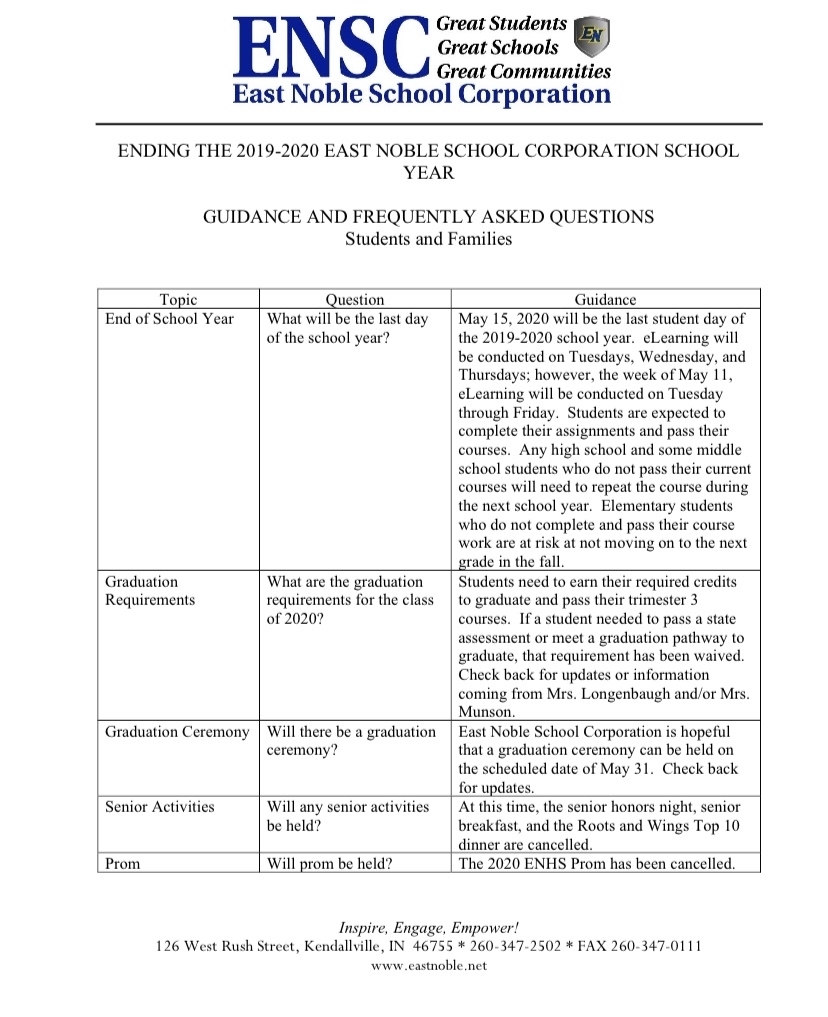 Just a reminder: We have eLearning on Tuesday, Wednesday and Thursday this week!