EDIT MAIN
Welcome To South Side Side Elementary!
---
Welcome to South Side Elementary School, home of The Trailblazers! Our vision is for staff, students, parents, and our community to work together to support our children's academic growth and development into responsible and engaged citizens. We hope to foster a character-driven and a future-focused culture through daily integration of Character Counts and best practice frameworks for learning. Please watch for news from South Side Elementary on our social media pages. Also, be sure that we have your current email address in order to deliver our monthly newsletter to your inbox. We hope you and your children find yourselves at home at South Side. Go Trailblazers, and Go Knights!
THE FUTURE READY DISTRICT PLEDGE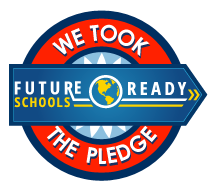 East Noble School Corporation has taken the Future Ready Pledge.
The Future Ready District Pledge, developed by the U.S. Department of Education in October 2014, is a commitment by district leaders to work with educators, families, and community members to make all schools in their districts Future Ready.